KLIMPEREI
Improvisation with myself, vol. 4 « Los Paranos »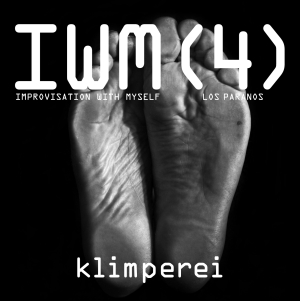 Improvisation with myself, vol. 5 « De quelques directions »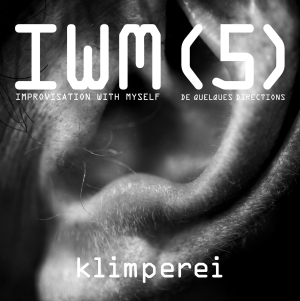 In september 2008, Klimperei initiated a new series of 5 CDs: improvisation with myself. « Each opus is entirely composed and recorded, half improvised with myself (hence the title). Partly improvised indeed as playing with myself obviously diminishes the nearly continuous surprise component one could find playing with different people, even if my memory is quite short » stated Klimperei in 2007. The first volume was the reference, followed by one volume dedicated to writers and a third one about recycling sound material from other projects. Now are the two last volumes. Here is the end of this very personal programme which allows to penetrate Klimperei's univers as well as to discover the kind of « disco ball » this artist shaped. Let's try to understand some of the new directions Klimperei takes. Imperatively moving!
En septembre 2008, Klimperei initie une nouvelle série pertinente de cinq CD : improvisation with myself . « Chaque opus est un ensemble composé et enregistré en semi-improvisation avec moi-même (d'où le titre). Semi car, bien sûr, l'effet de surprise quasi permanent quand on improvise à plusieurs est ici atténué, même si ma mémoire est très médiocre. » rappelle Klimperei. Après les volumes introductif (vol 1), dédié à la littérature (vol 2) et au recyclage (vol 3), sont présentés ici les deux derniers. Ainsi s'achève cette collection personnelle, qui permet à la fois d'entrer dans l'univers de Klimperei, de faire le tour de sa boule à facettes, et de comprendre certaines de ses nouvelles orientations. Impérativement touchant!

Volume 4 "Los Paranos": Please enter the Pop, the one Klimperei tinkled in some previous compilations such as "Pechno Hits" on InPolySons in 2003. « Los Paranos » (which does not translate from spanish in what it comes to mind) was a weird pop-rock band in the 80's, with one of the actual musician of Klimperei. Here, you will listen to covers by Klimperei of playful tunes and songs of Los Paranos, full of humor and mockery with a particular choice in the words: grotesque and surrealistic day-by-day life, but still limitating the « big messages » that young adults might inevitably develop to criticise the society (at that time, musicians of Los Paranos were aroung 20 years old). This pop music (a kind of...) exhumed from the past shows the central role Klimperei plays in the Hichno Pop defended by InPolySons, and also revealed in the CD « chansons jamais entendues à la radio » recently produced by Dominique Grimaud in his collection « Les Zutopistes ». It's wicked!

Volume 4 "Los Paranos" : Rentrons dans la pop, celle que Klimperei a égrainée au long de ses différents albums, notamment pour la compilation Pechno Hits sur InPolySons en 2003. « Los Paranos » (qui ne signifie probablement pas ce que l'on croit en espagnol) est un groupe déjanté pop-rock des années 80, dont l'un des musiciens de Klimperei était un membre actif. Ici, il s'agit de « covers » par Klimperei des airs et chansons enjoués de Los Paranos, musique chargée d'humour et de dérision, avec un choix tout particulier des paroles : le quotidien grotesque surréaliste, évitant les grands messages politico-jeunes pourtant souvent ardents à l'âge où l'on se plonge dans le rock (la vingtaine pour Los Paranos à l'époque). Ici, cette pop remontée des abîmes de l'autre siècle montre le rôle central que Klimperei joue dans cette pechno pop chère à InPolySons, et dans ces « chansons jamais entendues à la radio » récemment mises à l'honneur dans la collection des Zutopistes dirigée par Dominique Grimaud. C'est le pied!
Volume 5 "De quelques directions": The title of this volume could appear very serious since the small "De" particle in French can refer to noble person and scholarly (art) work. This CD also represents a true new direction that the group tends to follow. Klimperei is usually fond of musical miniatures (often dozens of titles for one CD), but here the artist proposes long and evolutive tracks, built around themes and atmospheres that could remind the 70's, without some heavy structures that occured sometimes at that period. However, the typical childish style of Klimperei is still present, with the same sound and instrumentarium, as well as the numerous breaks in the ternary rythms. Klimperei needs to float over the music to reach new territories. The beginning of an ear!
Volume 5 "De quelques directions" : L'intitulé docte de ce volume ("de..." : particule noble ou savante?) colore cette fin de série d'une ouverture vers un nouveau champ pour Klimperei. Ce groupe friand de miniatures musicales (souvent des dizaines de titres courts par album) propose ici de grandes plages de plus de dix minutes, construites sur l'évolution de thèmes et ambiances, à la manière de la musique progressive des annèes 70, sans la facture ni une certaine lourdeur que ces musiques (pas toutes...) trainaient. Dans ces grandes plages, on retrouve cependant la touche Klimperei, bien évidemment dans son instrumentairum et son son, dans l'art de la rupture, et dans cette façon enfantine de développer des rythmes souvent ternaires pour nous aider à nous évader. Ca plane un peu pour Klimperei, afin d'atteindre de nouveaux territoires. A vos oreilles!

This new InPolySons' collection consists of purposely simple CD with black and white cardboard sleeve to free ourselves from expensive costs and diminish plastic pollutions. This series initiates a conceptual work: a sustainable CD… ? !


Cette collection pour InPolySons est particulière : des CD qui se veulent simples (pochette cartonnée en noir et blanc), pour libérer les coûts et limiter les pollutions plastiques. Une œuvre conceptuelle qui devrait rester. Des CD durables ?…

LINKS :
http://inpolysons.free.fr/en/iwm4.html
http://inpolysons.free.fr/en/iwm4-cassette.html
http://inpolysons.free.fr/en/iwm5.html
Tweet
Share